Check out these fun winter holiday-time events in and around Richmond during December. From performances to favorite train exhibits, visits with Santa to ice skating, performances to group runs, these are a festive lineup of events that help make the season joyous and bring us together responsibly. Many events are FREE. Some events require fees and registration so check the links in advance before you head over or tune in from home. Bundle up and don't let cold weather stop you from exploring Richmond especially the outdoor events. Also, keep checking back as events are announced.
With so many in need around our area, don't forget to give back by volunteering in the community.
Related post 2020 December Craft and Holiday Fairs in Richmond
Related post: Christmas tree shopping around Richmond
Related post: 2020 Places to take photos with Santa in the Richmond area
Be sure and visit websites to confirm dates, times, and locations as they may change.
Do you know of an event that should be on this list? Email details to: news@rvaonthecheap.com. You can see more shopping posts as well as food focused posts. Be sure to subscribe to email updates, follow @rvacheap on Twitter or like RVA (Richmond) on the Cheap on Facebook to stay in the know about the latest freebies & deals.
December events that occur on more than one day in 2020:
DECEMBER 4-20 @ MAIN STREET STATION – Christmas Tree Decorating Contest – Hosted by Community First, the contest will feature 10 local nonprofits, each with their own tree displayed. Tree contest voting will occur via QR code in person as well as virtually. Each vote costs $1. There will be a live streamed party on December 21 announcing the top three winners. Those winners will receive cash prizes in addition to all money collected from votes they earned. Everyone is invited to the station to vote for their favorite tree.
Legendary Santa at Children's Museum of Richmond. Legendary Santa arrives. Join us as we welcome Legendary Santa to the Children's Museum of Richmond! Legendary Santa will be at the Central location daily. Check website for details.
Illumininate Light Show at Meadow Event Park. The light show consists of hundreds of thousands of LED lights synchronized to music from your car radio, and features an 80-foot tunnel of lights, 50-foot Christmas trees, dancing snowmen, singing trees and Santas and festive decorations. After the show, visitors can spend some time in Santa's Village, which includes fun for the whole family.
Lewis Ginter Botanical Gardens Dominion GardenFest of Lights. Everybody loves a good story. Now imagine myriad stories, plus legends and rhymes, embellished with amazing creativity through a half-million holiday lights! During this year's Dominion Energy GardenFest of Lights. Nov. 23, 2020-Jan 3, 2021
Christmas Town at Busch Gardens. There's no better way to get in the holiday spirit than a visit to Busch Gardens ® Christmas Town ™ in Williamsburg, Virginia. Featuring the biggest Christmas light display in North America with over eight million twinkling lights, two KIDsiderate ® areas and an assortment of thrill rides, festive entertainment and dining experiences, there's so much more to do and see at Christmas Town. The event runs November 13, 2020- January 3, 2021.
Holiday decorations at the Jefferson Hotel in Richmond. The hotel will be decorated for the season Monday, November 30, 2020 through Sunday, January 3, 2021. Access to view the decorations this year will be limited to those guests with a reservation for an overnight stay, Lemaire, Afternoon Tea or Salon Vivace or those attending a private event. Visitors without a reservation will be asked to join us another year when restrictions have been lifted. Due to current restrictions and mandates, the annual Tree Lighting and Music at Midday events will not be held in 2020.
Holidays at Colonial Williamsburg – charming decorations, engaging activities and all with an engaging, historic twist.
Glorious Christmas Nights. A sparkling new musical "Under the Same Stars" is an inspiring and incredible Christmas event. This is always a sell-out.
Old Fashioned Christmas. Maymont Mansion and Carriage House Lawn. Celebrate a charming, old-fashioned Christmas and experience a tradition enjoyed by generations of families. Victorian ladies and gentlemen graciously welcome you into the Dooleys' home to marvel at the grand Christmas tree and the beautifully decorated formal rooms, to see the gifts and games of 1893 and to stop by the Belowstairs, where holiday preparations abound. Enjoy horsedrawn carriage rides, visits with St. Nick and Maymont's Christmas Fairy, good food and drink, festive music, a roaring bonfire and special activities that are sure to fill everyone with a merry holiday spirit.
Taste of the Season at Kings Dominion – Select dates, December 5 – 27. A food-tasting extravaganza with a sleigh-full of fun family activities.
Bethlehem Walk. Bethlehem Walk returns. The interactive outdoor drama where guests experience first century Bethlehem. As you enter the city, allow the sights, sounds and smells to carry you to a period of time that changed the world. Journey through the heart of the city to the marketplace that is bustling with activity from over a dozen authentic shops; enjoy samples from the baker's shop, see the blacksmith at work making crucifixion nails, marvel at the potter's crafts and listen for the rumor of a king's birth from excited townspeople. Dec. 2-6, 2020
RTD Tacky Light Tour -The Richmond Times Dispatch Tacky Lights page is your guide to over-the-top holiday light displays in Richmond, Virginia. The annual list is your guide to the best tacky lights in the area. Take a self-guided tour of these illuminated wonders. It's Richmond's favorite tradition of over-the-top holiday decorating which can be enjoyed from the comfort of your car, a trolley, or a limousine. You'll definitely want to see why Travel + Leisure says Richmond has The Best Christmas Lights in Virginia. Find a guide to the lights as well as information about tours on the Richmond Times-Dispatch's Tacky Lights page. Watch for updates at the Tacky Lights Richmond Facebook page.
Contact the Red Vein Escape Room (
108 Robinson Street Ashland, VA 23005)
for your "quaranTEAM" adventure."
Help! The horned beast known as Krampus has captured Santa Claus and taken over his workshop! Santa's most trusted Elves from the North Pole have called for a rescue team in hopes of saving their jolly ol' boss from this devious Yuletide Monster. Do you have what it takes to free St Nick before his dark counterpart gains control forever? Gather your team and join up with the loyal elves, before it's too late. The countdown is on to save Christmas by escaping Krampus!
Escaping Krampus game is open through Jan. 16, 2021:
www.redveinescape.com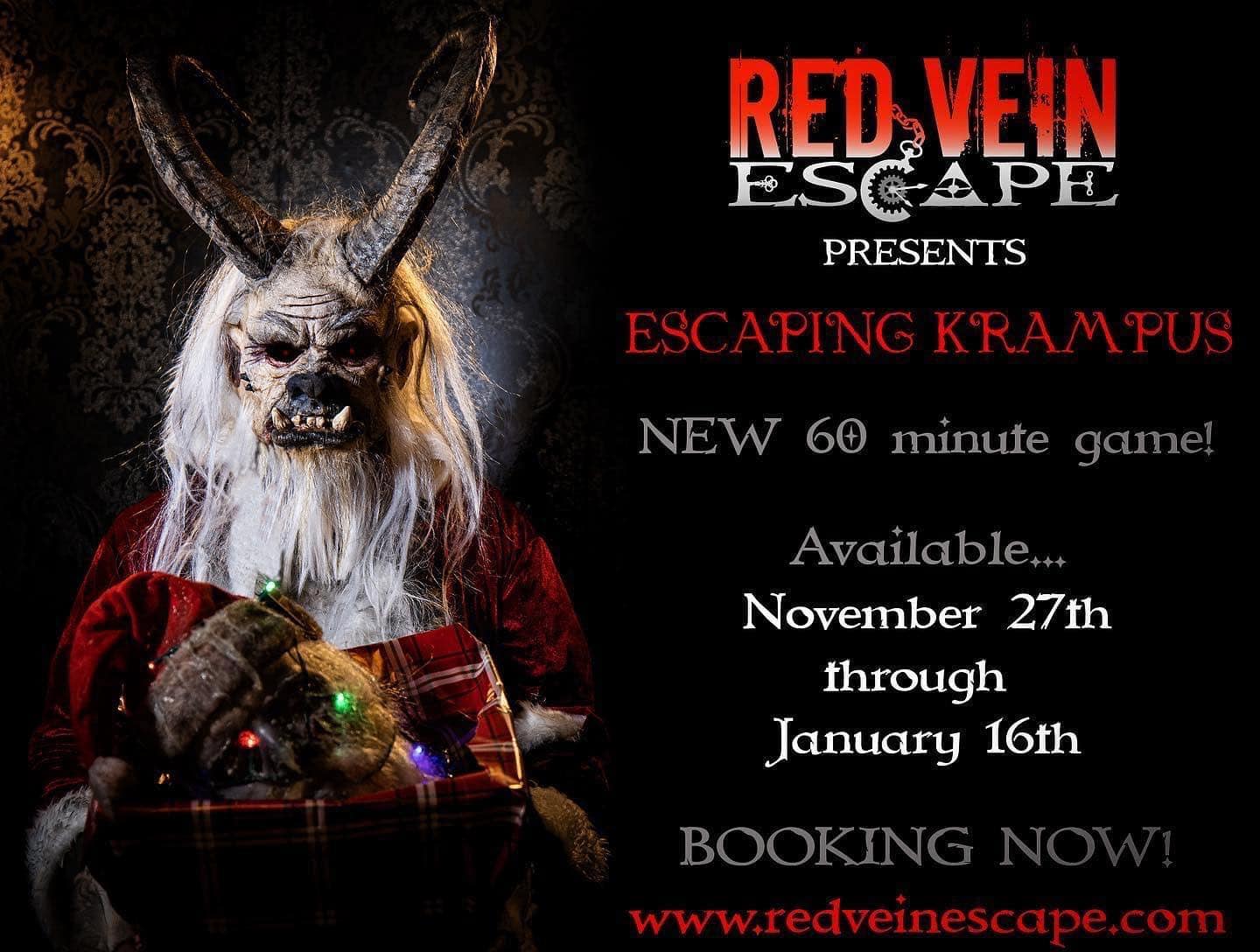 HOLIDAY VILLAGES 2020
PRESENTED BY THE RICHMOND NIGHT MARKET
SATURDAYS FROM NOVEMBER 28-DECEMBER 19, 12-6 P.M. There's still plenty of time to knock out your holiday shopping, and the Holiday Villages event is here to make your shopping experience easy, safe, fun and festive! Shop every Saturday at six designated and activated spaces throughout Richmond featuring 8-12 vendors per location, live music, and more.
THE NUTCRACKER GOES VIRTUAL Bring home the magic of The Nutcracker. The Richmond Ballet is offering several unique and exciting options for you to experience their beloved holiday production starting with a recording to watch the ballet in the comfort of your own home. Other experiences include Nutcracker Gift Boxes, 'Behind the Curtain' videos, and even visits from characters from the Kingdom of Sweets. These packages, which make the perfect holiday gift, are available for purchase here. December 11-31, 2020.
LIGHT UP THE TRACKS DOWNTOWN ASHLAND – DECEMBER 2020 – Every December, Downtown Ashland transforms into a vintage Christmas village with "Light Up the Tracks" — a mile-long light display welcoming visitors for a unique small town holiday experience. Block after block of Downtown Ashland businesses and homes are illuminated, accompanied by additional holiday sights, sounds, and festive Christmas decorations.
HOLIDAY BIKING TOURS & WALK THE LIGHT TOURS BASKET & BIKE/RVA ON WHEELS – BEGINNING DECEMBER 5 The Holiday Biking Tour of Downtown is a seasonal ride along the riverfront. The tour passes beautiful holiday lights and ends in the historic Shockoe Slip neighborhood with a beverage from Urban Farmhouse. A special holiday ornament is included with your tour. 2.5 hours. 3:00-5:30 P.M. The Walk the Lights Tour is an on-foot tour of downtown Richmond beneath the sparkly lights and starry sky. Includes hot cocoa from Urban Farmhouse. 1.5 hours. 6:00-7:30 P.M.
🕎 Check out our ideas on how to celebrate the Jewish holiday of Hanukkah (Dec. 10-18) at home on the cheap… including online and distanced community events in Richmond.
Keep checking back as events are announced.
December 11-13
CarMax Tacky Light Run. On various courses in Chesterfield.
December 12, 2020
•DECEMBER 12, 2020, 6-9 P.M.- JAMES RIVER PARADE OF LIGHTS – MULTIPLE VIEWING SITES – Celebrate the season with a lighted boat parade sponsored by the James River Advisory Council in cooperation with Henrico Recreation and Parks. Boaters decorate their vessels and converge on the James River for a festive boat parade. Viewing sites include Libby Hill Park in the city of Richmond, Osborne Landing in Henrico County, and Dutch Gap and Henricus Historical Park in Chesterfield County.
SANTA'S ENCHANTED WORKSHOP, Socially Distanced at the November Theatre, Virginia Repertory Theater
•12 & 13 Dec. 2020 – Art Market at City Stadium
•DECEMBER 12-20, 2020 – SANTA'S ENCHANTED WORKSHOP – NOVEMBER THEATRE – Join Virginia Repertory Theatre for a performance of the joyous holiday musical Santa's Enchanted Workshop. Watch Stanley and his baby sister SuSu as they head out on a surprise adventure to find out about Christmas. The production will be socially distanced with the theatre at less than 25% capacity. For parties of more than two, please call the box office to reserve tickets at (804) 282-2620.
December 13th
Historic Candlelight Walk – Friday, December 13, 7:15pm. The FREE candlelight walk hosted by The Church Hill Association and the Union Hill Association begins at Jefferson Park (Union Hill) at 7:15 pm with bagpipes, vespers and drummers leading the way through the Union Hill and Church Hill neighborhoods to historic Libby Hill. Bring your candles and lanterns, continue to St. John's Church where, following Vespers (starts at 7 pm), the congregation will join in the walk from Patrick Henry Park (approximately at 7:35 pm). Finally, all will gather for caroling and a visit from Santa on historic Libby Hill with the 180-degree view overlooking the James River and our city lit up for the holidays!
December 15th
Historic House Tour – Sunday, December 15, 12pm (noon) to 5pm. Church Hill is one of the nation's most historically significant neighborhoods. Designed by Major William Mayo in 1737, it is the oldest community in Richmond with homes built as far back as the 1700s. Today, the neighborhood is an elegant mix of Federal, Greek revival, Victorian and early 20th century homes, alongside more modern structures and many new and thriving restaurants and businesses. Neighbors will open their treasured homes to share a taste of holidays past and how we live in this amazing place today. Shuttle service is offered between each home beginning at St. John's Church.
You can purchase tickets for the House Tours now! All proceeds support The Church Hill Association a 501(c)3 non-profit that works to improve quality of life in Greater Church Hill. And you can take a peek at the Houses's on this year's tour via the CHA Holiday House Tour Preview!
Dec 16 & 17
Holiday on Ice (virtual) from SkateNation Plus and their sister rink, Richmond Ice Zone.
SkateNation Plus and their sister rink, Richmond Ice Zone are offering recreational options for kids and families like open skate, skating lessons and leagues — the attraction is a great fit to try on the weekend or during the week, it's fun for kids with energy to spare or perfect for an active cheap date.
December 21-24
Miracle of Christmas nativity goes virtual at the Metro Richmond Zoo from December 21-24
December 25th
Merry Christmas!
*Check back for a listing of possible places to volunteer and restaurants that are open.*
Related post: Bridging RVA's Christmas Day Dinner serves those in need with the help of volunteers
December 26-Jan. 1 – The 2020 Capital City Kwanzaa Festival will be a multi-day event streaming nightly from Elegba Folklore Society's website and Facebook page beginning at 7pm, December 26, 2020 – January 1, 2021. The virtual fest will feature nightly candle lighting ceremonies with discussions of the Nguzo Saba (the seven principles), performances, speakers, Watoto Kwanzaa, where "watoto," in the Kiswahili language the holiday employs, means children, material culture and foodways demonstrations, stories, workshops and more.
December 31st
January 1, 2021
HAPPY NEW YEAR!!
Earlier in the month we enjoyed:
Gardenfest for Fidos.Dogs can enjoy the holiday lights at GardenFest for Fidos! Leashed dogs are allowed on these select Dominion Energy GardenFest of Lights nights. (Also Jan. 7, 2021)
December 4th
FRIDAY, DECEMBER 4 AT 6PM @ VIRTUAL – RVA Illuminates A time-honored Richmond tradition will continue in 2020! See RVA shine when the switch is flipped ON to light up downtown's skyline for the 2020 holiday season. RVA Illuminates is a virtual event this year with ABC8 News airing live complete coverage of performances, uplifting stories, and the official lighting at 6pm. Be sure to join in the festive fun by lighting up your own storefronts and homes too!
•FRIDAY, DECEMBER 4 FROM 6-8PM FROM BROWN'S ISLAND TO TURNING BASIN ON CANAL WALK – Holiday Lights on the Riverfront – When downtown RVA lights up for the holiday season, Brown's Island and the Turning Basin on the Canal Walk will join in the cheer and help the City of Richmond kick off the season with Holiday Lights on the Riverfront, a display of decorative lights that is open and FREE to the public! Enjoy vendors Espresso-A-Go-Go and Curbside Creations and family entertainer Jonathan the Juggler on Brown's Island or take a festive stroll along the Canal Walk to the Turning Basin. Presented by Venture Richmond. Please practice safe social distancing. Parking is available at the American Civil War Museum ($), Belle Isle parking lot, and on-street parking along 2nd and 5th Streets.
Friday, December 4th: Fox Elementary PTA Christmas Tree Sale 3-6pm (2300 Hanover Ave, Richmond, VA)
Saturday, Dec. 5th : PTA Christmas Tree Sale 9:00-2 (or until sold out!) (2300 Hanover Ave, Richmond, VA)
December 5th
•5 Dec. 2020 – 11am-4pm – Carytown Open Air Christmas Market (2810 W Cary St, Richmond, VA 23221)
•SAT., DEC. 5, 2020 AT 10 AM – 2 PM, Manakin Market Holiday Farm & Craft Market, 68 Broadstreet Road Manakin, VA 23103
•2020 – Annual Dominion Christmas parade The parade will depart from the Science Museum on W. Broad Street and continue east to 7th Street. This beloved Richmond tradition attracts more than 100,000 spectators each year from everywhere in Virginia, with thousands more enjoying the live television broadcast. 10:00am-12:00pm The parade departs from the Science Museum on W. Broad Street and continues downtown eastward to 7th Street. For many Richmonders, it kicks off the Christmas season, featuring a very special Grand Marshal, holiday floats, marching bands, huge helium balloons, and, of course, Santa himself.
•December 5, 2020-January 3, 2021 Annual Tree Lighting – FREE Holiday Event. Cultural Arts Center of Glen Allen. In partnership with the County of Henrico Division of Recreation and Parks, The Center welcomes you to this beloved holiday event featuring magical holiday music performances, hot chocolate and cookies, a toasty bonfire, and, of course, a special visit from Santa to light our 60-foot cedar.
•Richmond Symphony and the Richmond Symphony Chorus for this annual family tradition. Home for the Holidays program
Let It Snow! The Brass Edition, Saturday, December 5 @ 8pm
A Baroque Holiday, Saturday, December 12 @ 8pm
•DECEMBER 5, 2020, 10 A.M.-5 P.M. – HOLIDAY CHEER AT PATRICK HENRY'S SCOTCHTOWN Get into the holiday spirit at Patrick Henry's Scotchtown on December 5, 2020. The historic site will celebrate with open house tours, costumed interpreters, hot cider, holiday crafts, and story time with Father Christmas at the top of every hour! Tickets for this event are $10 and will be timed.
December 6th
Yule Witch Market – Diversity Richmond (confirmed for 2020) – Friday-Saturday, December 6-7
•DECEMBER 6, 2020, 12-4 P.M.- WINTER WANDER – COURT END NEIGHBORHOOD AND VALENTINE GARDEN – Join the Valentine Museum for the first annual Winter Wander, featuring physically distanced live music in the Valentine Garden, hot beverages and a special, self-guided walking tour of the historic Court End neighborhood. (Photo from previous event)
December 7th
December 8th
Deck the Halls!
Want to give back to your community while creating beautiful, fresh holiday decorations? Here's your chance. Join us at Pine Grove Farm in Ashland for the annual "Deck the Halls". Deck the Halls has been a major fundraising event for more than 10 years. Proceeds from Deck the Halls always go to entities benefitting women and children in crisis.
Winter Wonderland at Dover Hall, 1500 Manakin Rd. Goochland, Songtime and storytime with Anna and Elsa, Holiday crafts.
Earlier in the season we enjoyed: Annual Model Railroad Show at Science Museum. Join in on Thanksgiving weekend for the Annual Model Railroad Show! Featuring all the bells and whistles, guests will enjoy unique and traditional model train displays from across the state. Nov. 27-29, 2020
Sign up for deals through Goldstar to learn about discounted events and shows in Richmond and nearby areas. Be sure to subscribe to email updates, follow @rvacheap on Twitter or like RVA (Richmond) on the Cheap on Facebook to stay in the know about the latest freebies & deals.
More things to do in and around Richmond: