Check out these fun winter holiday-time events in and around Richmond during December. From performances to favorite train exhibits, visits with Santa to ice skating, performances to group runs, these are a festive lineup of events that help make the season joyous and bring us together responsibly. Many events are FREE. Some events require fees and registration so check the links in advance before you head over or tune in from home. Bundle up and don't let cold weather stop you from exploring Richmond especially the outdoor events. Keep checking back as 2021 events are announced.
Be sure and visit websites to confirm dates, times, and locations as they may change.
Do you know of an event that should be on this list? Email details to: news@rvaonthecheap.com. You can see more shopping posts as well as food focused posts. Be sure to subscribe to email updates, follow @rvacheap on Twitter or like RVA (Richmond) on the Cheap on Facebook to stay in the know about the latest freebies & deals.
December events that occur on more than one day in 2021:
Legendary Santa at Children's Museum of Richmond. Legendary Santa arrives. Join us as we welcome Legendary Santa to the Children's Museum of Richmond! Legendary Santa will be at the Central location daily. Check website for details.
Illumininate Light Show at Meadow Event Park. The light show consists of hundreds of thousands of LED lights synchronized to music from your car radio, and features an 80-foot tunnel of lights, 50-foot Christmas trees, dancing snowmen, singing trees and Santas and festive decorations. After the show, visitors can spend some time in Santa's Village, which includes fun for the whole family.
Lewis Ginter Botanical Gardens Dominion GardenFest of Lights. Everybody loves a good story. Now imagine myriad stories, plus legends and rhymes, embellished with amazing creativity through a half-million holiday lights! During this year's Dominion Energy GardenFest of Lights. Nov. 22, 2021-Jan 9, 2022
Christmas Town at Busch Gardens. There's no better way to get in the holiday spirit than a visit to Busch Gardens ® Christmas Town ™ in Williamsburg, Virginia. Featuring the biggest Christmas light display in North America with over eight million twinkling lights, two KIDsiderate ® areas and an assortment of thrill rides, festive entertainment and dining experiences, there's so much more to do and see at Christmas Town. The event runs.
Holiday decorations at the Jefferson Hotel in Richmond. The hotel will be decorated for the season January 2022. Access to view the decorations this year will be limited to those guests with a reservation for an overnight stay, Lemaire, Afternoon Tea or those attending a private event.
Holidays at Colonial Williamsburg – charming decorations, engaging activities and all with an engaging, historic twist.
Winterfest at Kings Dominion – select dates, Nov. 20 – Jan. 9
Bethlehem Walk. Bethlehem Walk returns. The interactive outdoor drama where guests experience first century Bethlehem. As you enter the city, allow the sights, sounds and smells to carry you to a period of time that changed the world. Journey through the heart of the city to the marketplace that is bustling with activity from over a dozen authentic shops; enjoy samples from the baker's shop, see the blacksmith at work making crucifixion nails, marvel at the potter's crafts and listen for the rumor of a king's birth from excited townspeople. Dec. 1-5, 2021
RTD Tacky Light Tour -The Richmond Times Dispatch Tacky Lights page is your guide to over-the-top holiday light displays in Richmond, Virginia. The annual list is your guide to the best tacky lights in the area. Take a self-guided tour of these illuminated wonders. It's Richmond's favorite tradition of over-the-top holiday decorating which can be enjoyed from the comfort of your car, a trolley, or a limousine. You'll definitely want to see why Travel + Leisure says Richmond has The Best Christmas Lights in Virginia. Find a guide to the lights as well as information about tours on the Richmond Times-Dispatch's Tacky Lights page.
HOLIDAY VILLAGES 2020 PRESENTED BY THE RICHMOND NIGHT MARKET

There's still plenty of time to knock out your holiday shopping, and the Holiday Villages event is here to make your shopping experience easy, safe, fun and festive! Shop every Saturday at six designated and activated spaces throughout Richmond featuring 8-12 vendors per location, live music, and more.
Dec. 11-23, 2021 Richmond Ballet Presents The Nutcracker at the Dominion Energy Center for the Performing Arts. The Nutcracker makes its triumphant return this holiday season. Accompanied by the Richmond Symphony, Clara and her adoring Nutcracker, the glittering butterfly, and dancing Russian bear will once again charm audience members of all ages. This is the final opportunity to see this version of our beloved production as updated costumes and dazzling new sets will premiere in December of 2022. Tickets start at $25. Visit etix.com or call the Richmond Ballet Box Office at 804.344.0906 x224.
Keep checking back as events are announced.
Here's what we're looking forward to: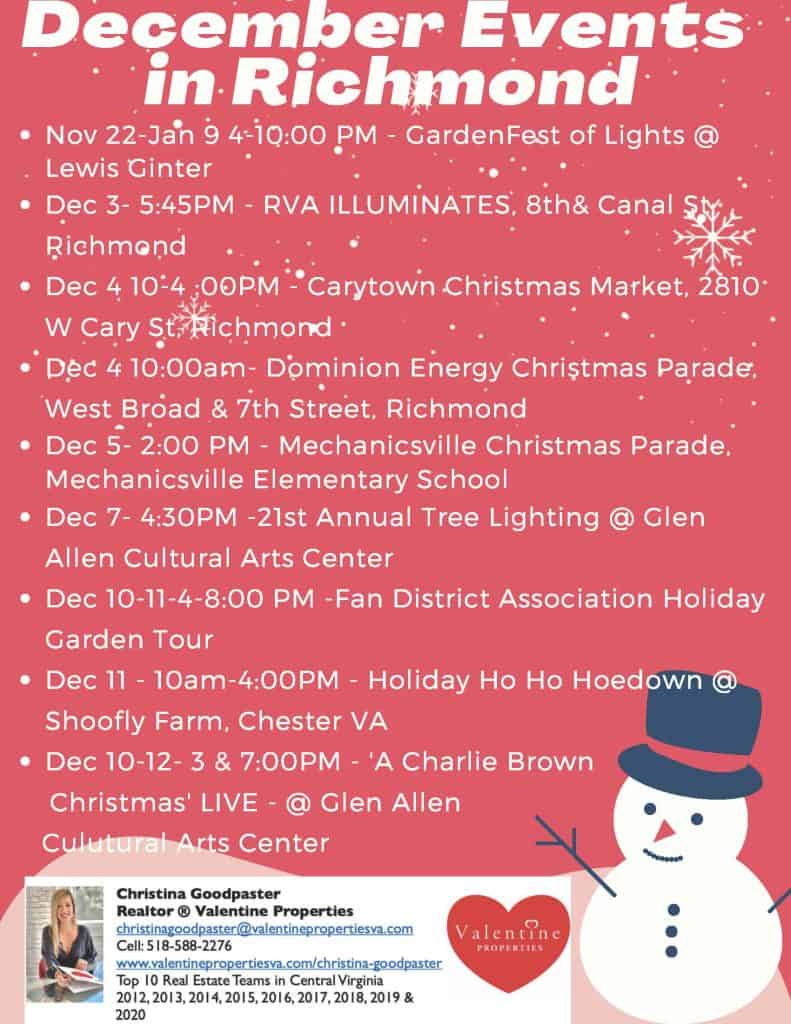 🌲 Christmas Tree sale at Fox Elementary School will be Friday, December 3 & Saturday, December 4 (9am – 2pm) on the Fox playground Fox Elementary PTA Christmas Tree Sale (2300 Hanover Ave, Richmond, VA)
•Saturday, December 4, 2021 – 10AM-4PM – Carytown Open Air Christmas Market (2810 W Cary St, Richmond, VA 23221)
•SATURDAY, DECEMBER 4, 2021 AT 10 AM – 2 PM Manakin Market Holiday Farm & Craft Market
•Saturday, December 4th. Annual Tree Lighting – Free Holiday Event The Center's Tree Lighting program will begin at 4:30pm. The Cultural Arts Center at Glen Allen from 5-7pm. Celebrate the holidays with us at our Annual Tree Lighting and Illumination Event December 4th from 4:30-7pm at The Cultural Arts Center at Glen Allen.Enjoy live music and a stroll through The Center to marvel at our artisan tree and wreath exhibit. The local artist elves have also been very busy in our gift shop full of unique, handcrafted gift items – perfect for knocking out your holiday shopping early.
⭐️SATURDAY, DECEMBER 4, 2021 AT 7:30 PM A Baroque Holiday, Richmond Symphonym 600 E. Grace St. Richmond, VA 23219
⭐️ FRIDAY, DECEMBER 10, 11 & 12 2021 AT 7 PM – 9 PM "A Charlie Brown Christmas" presented by Henrico Theatre Company at The Cultural Arts Center at Glen Allen
⭐️ SUNDAY, DECEMBER 12, 2021 AT 12 PM – 4 PM Yule Witch Market Diversity Richmond
⭐️SUN, DEC 12 AT 12 PM Cookies with Santa OFF The WALL, Indoor Bounce & Party Place – OFF The WALL, Indoor Bounce & Party Place
•Winter Wander, Sunday, December 12, 12-4 p.m. Join us on our picturesque block of E. Clay Street for some winter cheer! We'll have hot beverages, family crafts and games, and live entertainment. You can also take a self-guided tour of the historic Court End neighborhood and hop on a shuttle to visit nearby Downtown cultural sites for open houses and other activities. Valentine Museum
•Dec. 11, 2021 CarMax Tacky Light Run. On various courses in Chesterfield. http://www.sportsbackers.org/events/tacky-light-run/
SANTA'S ENCHANTED WORKSHOP, Socially Distanced at the November Theatre, Virginia Repertory Theater
•12 & 13 Dec. 2020 – Art Market at City Stadium
•Dec. 21 Metro Zoo of Richmond's Miracle of Christmas, their nativity pageant, will be virtual this year
December 25th
Merry Christmas!
*Check back for a listing of possible places to volunteer and restaurants that are open.*
Related post: Bridging RVA's Christmas Day Dinner serves those in need with the help of volunteers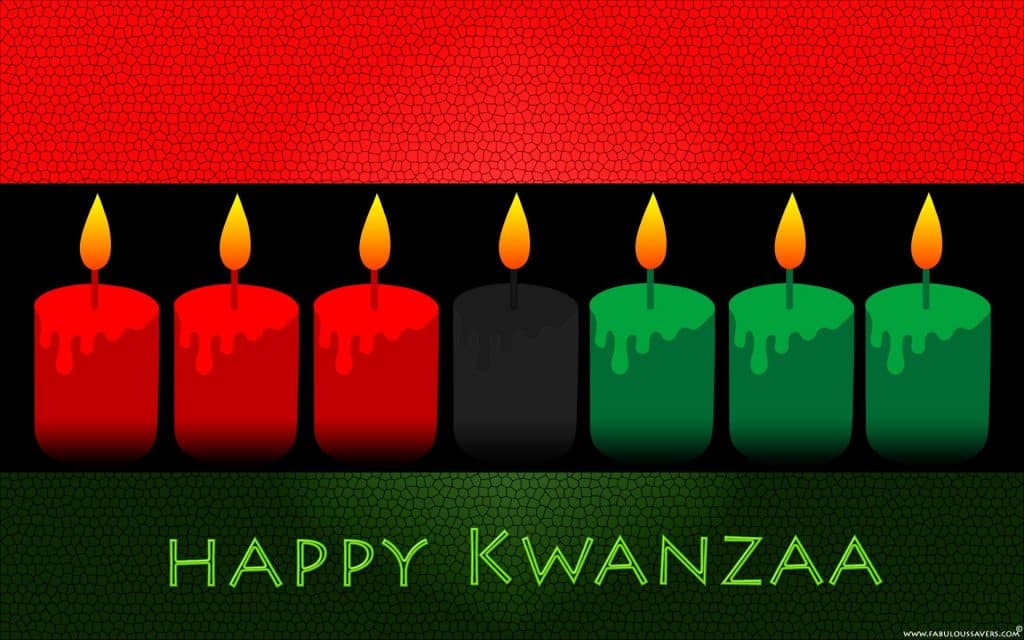 TBA – Capital City Kwanzaa Festival will be a multi-day event streaming nightly from Elegba Folklore Society's website and Facebook page beginning at 7pm, December 26, 2021 – January 1, 2022. The virtual fest will feature nightly candle lighting ceremonies with discussions of the Nguzo Saba (the seven principles), performances, speakers, Watoto Kwanzaa, where "watoto," in the Kiswahili language the holiday employs, means children, material culture and foodways demonstrations, stories, workshops and more.
December 31st
January 1, 2022
HAPPY NEW YEAR!!
With so many in need around our area, don't forget to give back by volunteering in the community.
Related post 2020 December Craft and Holiday Fairs in Richmond
Related post: Christmas tree shopping around Richmond
Related post: 2020 Places to take photos with Santa in the Richmond area
Sign up for deals through Goldstar to learn about discounted events and shows in Richmond and nearby areas. Be sure to subscribe to email updates, follow @rvacheap on Twitter or like RVA (Richmond) on the Cheap on Facebook to stay in the know about the latest freebies & deals.
More things to do in and around Richmond: